OKAY, I AM SICK OF THIS. WOODENTOASTER IS MALE AND THAT IS THAT. I AM LOCKING THIS PAGE FROM FURTHER EDITS. 
WoodenToaster is a character in Get Ready.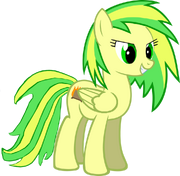 | Name | WoodenToaster |
| --- | --- |
| Other names | Glaze, Woody, Toastie |
| GenderM | Male |
| Type | Fire-Electric |
| allies | Digitals |
| enemies | Hamsha, FGG |
| alliance | good |
| group | Bronies |
Appearance
He is a light ivory (sometimes bright yellow) pegasus with a green yellow-striped Vinyl style mane and RD style tail, and emerald green eyes.
Personality
He is very warmhearted and easygoing. 
Other notes
He is known as the Flame Pegasus creature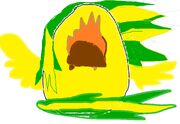 Ad blocker interference detected!
Wikia is a free-to-use site that makes money from advertising. We have a modified experience for viewers using ad blockers

Wikia is not accessible if you've made further modifications. Remove the custom ad blocker rule(s) and the page will load as expected.