Star Catcher is a character in Get Ready.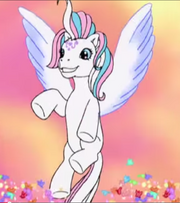 | Name | Star Catcher |
| --- | --- |
| Other names | none |
| Gender | female |
| type | fairy-normal-flying |
| allies | Sky Wishes, Ponies, Digitals |
| enemies | Hamsha |
| alliance | good |
| group | Happy Tree Friends |
Appearance
Edit
A white pegasus pony with huge wings, a pink, white and light aqua striped mane and tail, and aqua eyes. Her cutie mark is a crystalline pink heart.
Personality
Edit
She is shy and refuses to be talked about. Her kind is even more rare than your normal, everyday, G4 pegasus pony! 
Ad blocker interference detected!
Wikia is a free-to-use site that makes money from advertising. We have a modified experience for viewers using ad blockers

Wikia is not accessible if you've made further modifications. Remove the custom ad blocker rule(s) and the page will load as expected.