Splendid is a character in Get Ready.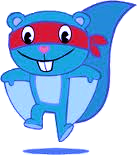 | Name | Splendid |
| --- | --- |
| Other Names | none |
| gender | male |
| type | grass-flying |
| allies | Digitals |
| enemies | anyone who inflicts pain on his friends |
| alliance | good |
| group | Happy tree Friends |
Appearance
Edit
He is a light blue flying squirrel with a red bandana
Personality
Edit
He tries to be helpful, but usually accidentally winds up causing more trouble; he is more into knitting, naps,reading, and sewing instead of saving lives all the time anyway, making him a good companion for retirement homes.
Other Notes
Edit
he is known as the Hero creature. 
Ad blocker interference detected!
Wikia is a free-to-use site that makes money from advertising. We have a modified experience for viewers using ad blockers

Wikia is not accessible if you've made further modifications. Remove the custom ad blocker rule(s) and the page will load as expected.