Slipups are legless puppy-slug like creatures made of soap. Their tongues are transparent and they have hyper eye vision. Like most creatures, they come in a variety of pale colors.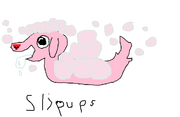 They are hyper and when they become scared, they spit soap in your face. Their diet mostly consists of rubber and insects.
Ad blocker interference detected!
Wikia is a free-to-use site that makes money from advertising. We have a modified experience for viewers using ad blockers

Wikia is not accessible if you've made further modifications. Remove the custom ad blocker rule(s) and the page will load as expected.