Roulette Boy is a character in Get Ready.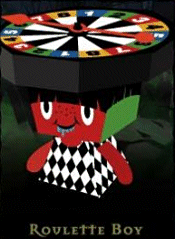 | name | Roulette Boy |
| --- | --- |
| other names | none |
| gender | male |
| type | dark-normal |
| allies | everyone |
| enemies | he usually annoys everyone into spinning him |
| alliance | good |
| group | Gregory Horror Show |
Appearance
Edit
He is a red little boy figure (drooling) with a colorful roullitte spinner on his head. he wears a black and white diamond patterned shirt. (he's a bit of an eyesore, really)
Personality
Edit
He is playful and friendly, always trying to get people to play with him and spin his roulette.
Other notes
Edit
he is known as the Roulette creature. 
Ad blocker interference detected!
Wikia is a free-to-use site that makes money from advertising. We have a modified experience for viewers using ad blockers

Wikia is not accessible if you've made further modifications. Remove the custom ad blocker rule(s) and the page will load as expected.