Nutty is a character in Get Ready.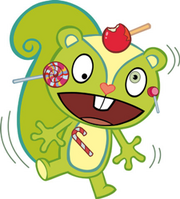 | Name | Nutty |
| --- | --- |
| Other | Sugar Squirrel |
| Gender | male |
| Type | grass electric |
| Allies | Digitals, Candy |
| Enemies | Healthy foods, Proffesor Auguste |
| alliance | good |
| Group | Happy Tree Friends |
Appearance
Edit
Nutty is a light green squirrel. He has a candy apple on his head, a lollipop and a sucker on his cheeks, a candy cane on his tummy, and a dead eye which jiggles around when he is happy.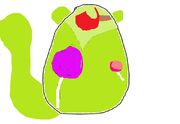 Personality
Edit
Nutty is hyper and cheerful. He loves candy and sugar, which runs through his bloodstream frequently.
Other Notes
Edit
He is known as the Sugar Squirrel creature. 
Ad blocker interference detected!
Wikia is a free-to-use site that makes money from advertising. We have a modified experience for viewers using ad blockers

Wikia is not accessible if you've made further modifications. Remove the custom ad blocker rule(s) and the page will load as expected.