"Oh, spell my name with all caps, please. People will find me better."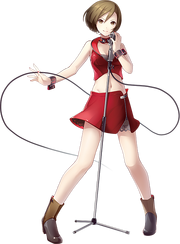 -Meiko introducing herself to the group.  Meiko is a character in Get Ready. 
Appearance
Edit
She is a lightskinned female figure with short brunette hair and red clothing.
Personality
Edit
She likes to excite the emotions of others, especially when she is lonely. She's naturally solitary. 
Ad blocker interference detected!
Wikia is a free-to-use site that makes money from advertising. We have a modified experience for viewers using ad blockers

Wikia is not accessible if you've made further modifications. Remove the custom ad blocker rule(s) and the page will load as expected.