Iridescence is a character in Get Ready. 
| Name | Iridescence |
| --- | --- |
| Other Names | Iri, Nurse |
| Gender | Female |
| type | Normal-Ground |
| allies | Bronies, Digitals |
| enemies | Hamsha |
| alliance | good |
| group | Dusk's Dawn, Bronies |
Appearance
Edit
She is a white unicorn mare with a red mane and tail, and red eyes. Her cutie mark is a band aid.
Personality
Edit
She is a skilled medic, never forgetting to take her medical kit with her when she is on the go. She is faithful, digilent, and is a very capable watcher.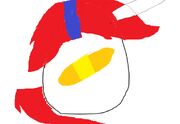 Ad blocker interference detected!
Wikia is a free-to-use site that makes money from advertising. We have a modified experience for viewers using ad blockers

Wikia is not accessible if you've made further modifications. Remove the custom ad blocker rule(s) and the page will load as expected.