Handy is a character is Get Ready.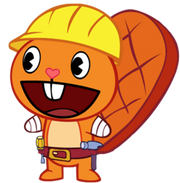 | Name | Handy |
| --- | --- |
| Other Names | Stubby, Handyman,  |
| Gender | male |
| Type | Grass-water |
| allies | Digitals |
| enemies | Professor Auguste |
| alliance | Good |
| group | Happy Tree Friends |
Appearance
Edit
Handy is an orange beaver with a brown tail. He wears a yellow builder's hat and a tool belt. His most notable feature, however, is the loss of his arms covered in bandages.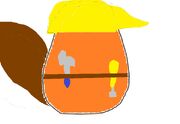 Personality
Edit
Handy is always a hard and loyal worker. He can carry buckets of nuts and bolts in his mouth, and his thick tail makes him a very strong swimmer. 
Other Notes
Edit
He is known as the Construction Beaver creature 
Ad blocker interference detected!
Wikia is a free-to-use site that makes money from advertising. We have a modified experience for viewers using ad blockers

Wikia is not accessible if you've made further modifications. Remove the custom ad blocker rule(s) and the page will load as expected.