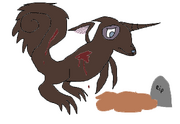 Grimchillas are chinchilla-like creatures with a horn on their heads used for digging holes. Their colors are faded and they are usually depressed, particularly because they appear when someone has died. When they are happy their colors brighten back up and they smack their flippers together like a seal. (they become happy when there is no reason for them to appear) 
Ad blocker interference detected!
Wikia is a free-to-use site that makes money from advertising. We have a modified experience for viewers using ad blockers

Wikia is not accessible if you've made further modifications. Remove the custom ad blocker rule(s) and the page will load as expected.