Flippy is a character in Get Ready. 
| Name | Flippy |
| --- | --- |
| Other names | Army Guy |
| gender | male |
| type | grass-fighting |
| allies | Happy Tree Friends, Digitals |
| enemies | Auguste |
| alliance | good, neutral-bad when crazy |
| group | Happy Tree Friends |
Appearance
Edit
He is a green bear in veteran's clothing.
Personality
Edit
He is loyal and caring...if he is reminded of war, he goes crazy and tries to hurt anyone in the area with him. This has made him quite popular among the HTF fandom (and we see how much he is stressed with this in his Dream Journey )
Other notes
Edit
he is known as the veteran creature.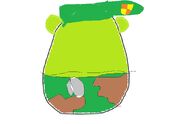 Ad blocker interference detected!
Wikia is a free-to-use site that makes money from advertising. We have a modified experience for viewers using ad blockers

Wikia is not accessible if you've made further modifications. Remove the custom ad blocker rule(s) and the page will load as expected.