Doodle 2 is the main protagonist and titular character of Get Ready.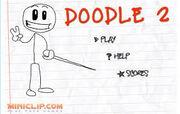 | Name | Doodle 2 |
| --- | --- |
| other names | Doodles |
| type | normal |
| gender | male |
| allies | Digitals, Omegas |
| enemies | FFG, P.A.I.N |
| alliance | Good |
| group | Video Games |
Appearance and Personality
Edit
Doodle 2 is a generic white stick figure with a black body. Doodle 2 is known for having a surprisingly sweet, feminine nature. On the downside, he is very sensitive and easily flips out. Doodle 2 also has a knack for organizing things the way he likes them.
Most of Doodle 2's origin is shrouded in mystery. He had been missing for years, and returned for the final battle with The Cursed Seven. But before that, he and his cat Graphite Tail were trying to take the others' heart. After the battle, it was revealed the duo was working with an unknown master who was looking for warriors to defeat them in the first place.