Disco Bear is a character in Get Ready. 
| Name | Disco Bear |
| --- | --- |
| Other names | none |
| gender | male |
| type | grass-fire |
| allies | Females, Digitals, Happy Tree Friends |
| enemies | Auguste, FGG |
| alliance | good |
| group | Happy Tree friends |
Appearance
Edit
He is a yellow-orange bear with an afro. He wears an orange jacket and boots
Personality
Edit
He loves disco and girls. Usually he is seen trying to attract a female but no matter how much he tries, the poor guy can't seem to get any luck. He also likes cheese fondue, eggs, bacon and other fatty foods.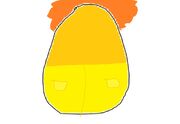 Ad blocker interference detected!
Wikia is a free-to-use site that makes money from advertising. We have a modified experience for viewers using ad blockers

Wikia is not accessible if you've made further modifications. Remove the custom ad blocker rule(s) and the page will load as expected.