Catherine is a character in Get Ready.  
| Name | Catherine |
| --- | --- |
| Other Names | Nurse, Name often mispelled as Katherine |
| Gender | Female |
| Type | Ghost-Dark |
| Allies | Real world humans |
| Enemies | everyone else |
| alliance | neutral, mostly bad |
| group | Gregory Horror Show |
Appearance
Edit
Catherine is a pink and red spotted lizard with a purple tongue, yellow-orange eyes, and nurse's clothing.
Personality
Edit
She is very cruel and devious; Catherine can pull off medical assistance when trained properly, but is usually more interested in taking the other's blood, which she feeds to her young. 
Other Notes
Edit
She is known as the Nurse Lizard creature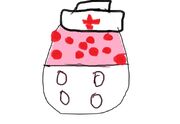 Ad blocker interference detected!
Wikia is a free-to-use site that makes money from advertising. We have a modified experience for viewers using ad blockers

Wikia is not accessible if you've made further modifications. Remove the custom ad blocker rule(s) and the page will load as expected.