Amber Sunight is a character in Get Ready. 
Name
Amber Sunlight
other names
none
gender
female
type
fire-ground
allies
Bronies, Digitals
enemies

Hamsha

alliance
good
group
Bronies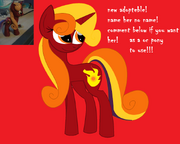 Appearance
Edit
She is a dark red uicorn mare with an orange, yellow, and black mane and tail, and orange eyes. Her cutie mark is a fire. 
Personality
Edit
She is competitive, sporty and encoraging. She likes sports, drawing, and will happily eat any unwanted spicy food left over by the others.
She was adopted by Doodle 2, mainly to balance out his OC team due to Sir Shardwing screwing up sled runs becaue he is taller than the others.